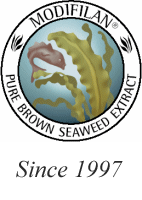 HARVEST 2011/2012
To all customers and distributors,

Starting from the year 2011, PSD, Inc. has abandoned all harvesting operations within the Russian Federation due to growing concerns about the environmental situation in the North West Pacific Ocean region and the incessant infringement cases from Russia.

Retail packaged and bulk Modifilan extract made from the newly acquired harvest of Laminaria is expected to go into distribution in October of 2011.

We express our sincere appreciation to our entire clientele for their business in the past and we are looking forward to earning more of it in the future.

Thank you!