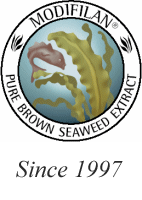 OUR COMPANY
MODIFILAN Brown Seaweed Extract is manufactured in the United States by Pacific Standard Distributors, Inc.

We have been in the business since 1997.

Our company was founded and operates under the private ownership of those who dedicate their work towards making MODIFILAN a leading nutritional product.

PSDI is involved in all stages of the manufacturing and distribution of MODIFILAN.

Our Quality Control team at the manufacturing plant makes sure all processing is done in accordance with GMP standards.

One of the best analytical research labs in California runs an analysis on each new lot of extract powder before encapsulation. Our FDA licensed and GMP certified nutritional product manufacturer makes finished product, sealing it in consumer packaging for further retail distribution.

Pacific Standard Distributors, Inc. is not a large corporation. Everyone in our company is an integral part of and contributes to what our product is today. Any time you need to ask a question, receive advice or place an order, there is always someone here upon which you can count. We would be pleased to hear from you and hope that our dialogue will benefit you on your pathway to healthy living.