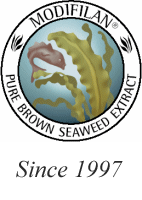 WELCOME TO MODIFILAN.COM

This site is dedicated to the promotion of a unique nutritional product called MODIFILAN, a concentrated brown seaweed extract. It is a natural food supplement which contains several organic elements found to be very beneficial to our health.

One of the main qualities of Laminaria is its high content of alginates, which are enhanced by the extraction process used to produce MODIFILAN. Alginates are the most effective organic elements that enable the human body to get rid of heavy metals and toxins. Not all "algae" have alginates; blue or green algae does not. According to scientific testing, only this brown seaweed does! The unique methods of extraction, as well as the quality of this seaweed, are key. MODIFILAN has up to 50% of the highest quality alginates.

The low-temperature processing of MODIFILAN causes a sloughing off of the heavy outer fibers of the seaweed, while retaining the essential properties of the plant. This process further enhances its bioavailability, making the Laminaria more digestible. Forty pounds of raw Laminaria are required to make one pound of MODIFILAN. Eating 8 capsules of extract a day provides the same amount of good, organic micro- and macro-elements contained in entire plate of this nutrient-rich seaweed. And, it is not cooked. The oldest Asian recipes of preparing seaweed tell us to eat seaweed raw, rather than cooked. Modern science affirms that an anti-cancer substance called Fucoidan, as well as beneficial polysaccharides, will break down if the seaweed is cooked. This was determined when studies were performed on the Japanese island of Okinawa, known for its lowest cancer death rate in Japan.

Our intention, through our internet presence, is to introduce MODIFILAN and provide education about its many benefits. In the following pages, you will find much important information about this very special nutritional product - such as scientific data, testimonials from doctors, and personal experiences from customers who have chosen MODIFILAN as their answer for healthy living.

From all of us who brought MODIFILAN to you, THANK YOU for your interest, trust, and business. We wish you peace, love, and excellent health!