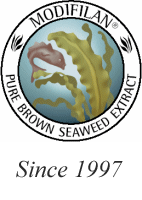 LEGAL

MODIFILAN® IS A REGISTERED PRODUCT AND TRADE MARK. 

CERTIFICATE OF REGISTRATION NO.4,968,231 ISSUED BY US PATENT & TRADEMARK OFFICE.

PACIFIC STANDARD DISTRIBUTORS, INC. HOLDS LEGAL RIGHTS FOR USE OF NAME MODIFILAN® 

LABEL DESIGN AND CONTENT FOUND ON CONSUMER PACKAGING IS OWNED BY PACIFIC STANDARD DISTRIBUTORS, INC. AND CANNOT BE REPRODUCED WITHOUT AGREEMENT WITH OUR CORPORATION.

PACIFIC STANDARD COMPANY MANUFACTURES MODIFILAN®. THIS PRODUCT IS MADE IN THE USA.

IF YOU PURCHASED OR WERE OFFERED MODIFILAN®  BY BUSINESS OR PRIVATE PARTY, EXCEPT PACIFIC STANDARD DISTRIBUTORS, INC. OR APPOINTED RESELLER OF MODIFILAN® , IT MAY NOT BE OUR ORIGINAL PRODUCT.


MODIFILAN® IS A CONCENTRATED EXTRACT OF VERY UNIQUE TYPE OF SEAWEED AND IT IS IMPOSSIBLE TO MAKE PRODUCT SIMILAR TO OUR QUALITY. ON THE OTHER HAND, GROUND DRY SEAWEED MAY LOOK OF THE SAME COLOR AND TEXTURE, AS MODIFILAN®. IF YOU ARE NOT SURE OF SOURCE, WHERE MODIFILAN® IS SOLD, PLEASE CONTACT US AND WE HELP YOU TO DETERMINE POSSIBLE FRAUD.

INTERNET SITE MODIFILAN.COM IS REGISTERED AND OWNED BY PACIFIC STANDARD DISTRIBUTORS, INC.

WE RESERVE RIGHTS TO CHANGE PRICES WITHOUT PRIOR NOTICE.

THANK YOU!



The products and statements made about specific products on this web site have not been evaluated by the United States Food and Drug Administration (FDA) and are not intended to diagnose, treat, cure or prevent disease. All information provided on this web site or any information contained on or in any product label or packaging is for informational purposes only and is not intended as a substitute for advice from your physician or other health care professional. You should not use the information on this web site for diagnosis or treatment of any health problem. Always consult with a healthcare professional before starting any new vitamins, supplements, diet, or exercise program, before taking any medication, or if you have or suspect you might have a health problem.